January 10, 2023
Posted by:

Felicia

Categories:

Advices, Blog, English, Food Safety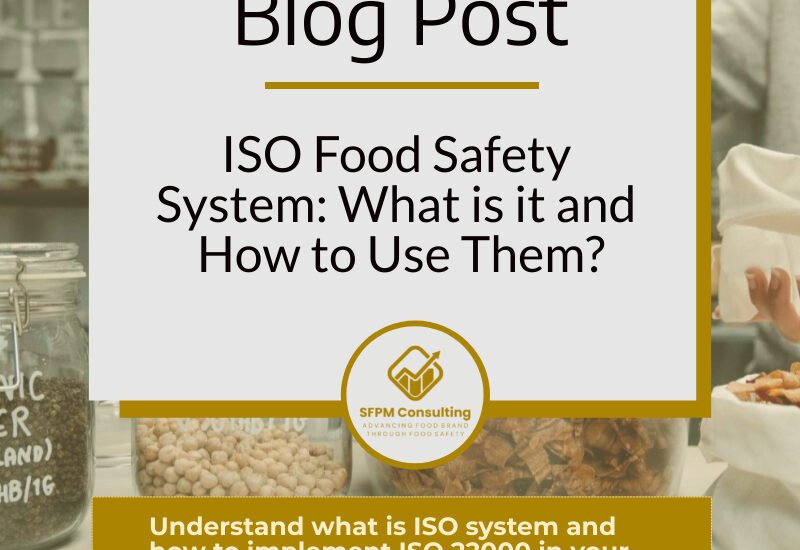 Looking to get your food safety system in compliance with ISO standards? Keep reading for an overview of the ISO Food Safety System and instructions on how to use it.
ISO is the world's largest international standardization organization, and its Food Safety System code was created to help organizations comply with a vast array of food safety requirements. This comprehensive system covers everything from facility design and sanitation to product testing and recall procedures. Whether you're a small business or a multinational corporation, adopting an ISO Food Safety System is an example of how you can ensure high-quality food products.
ISO Food Safety System: What is it?
ISO Food Safety System is a globally recognized food safety system that helps ensure food products' quality, safety and consistency. ISO Food Safety System helps to trace the source of food contamination, prevent or minimize adverse health effects caused by food, and help optimize production processes.
ISO Food Safety System was created in 1947 as an international standard for managing risk associated with the produce industry. As the global business grew increasingly sensitive to product quality and safety concerns, so did ISO's scope – today, it covers all stages of the supply chain from field to fork. If you work in any aspect of agriculture or consume foods produced anywhere in the world, ISO Food Safety System is likely already integrated into your day-to-day operations.
ISO Food Safety System: How to Use It?
ISO Food Safety System is a system that helps ensure food products' safety. The ISO Food Safety System can be used in a variety of ways, including:
1) ensuring correct labelling and identification of food products;
2) improving food quality by monitoring ingredients and processing procedures;
3) preventing food poisoning through effective detection, investigation, and response to incidents.
To use the ISO Food Safety System effectively, you need to have accurate information about your products. You must identify them correctly to know what steps must be taken if contamination occurs. Additionally, you need systems that monitor ingredients and processes throughout the manufacturing process. This will help ensure that your food products are safe for consumption.
ISO Standards and Requirements
ISO Standards and Requirements play an important role in the food industry. ISO is a global organization that sets standards for quality, safety, environmental protection, and other business areas.
ISO Food Safety System offers global food safety certification to help businesses improve their quality assurance programs. The system also helps to ensure the safe transport of food products and protects consumers from unsafe foods. In addition, it can help reduce waste by helping businesses track inventory levels and optimize production processes.
ISO Food Safety System has been recognized as one of the most comprehensive systems for managing food safety risks worldwide. It provides organizations with a single source of authority on food-related issues to make informed decisions about how best to protect customers and employees from potential health hazards.
ISO 22000
ISO 22000 is an international standard for food safety management. It provides a framework for organizations to develop and implement a system that will protect the food they produce from contamination. ISO 22000 establishes requirements for the design, operation, monitoring, and documentation of food safety systems. The goal of ISO 22000 is to provide consistency in food safety standards among different countries and regions so that consumers can have confidence in the quality of products from around the world.
ISO 22000 is a food safety management system that sets standards for safe food handling. It was developed in 2005 and has since been adopted by many countries worldwide.
ISO 22000 provides a framework for managing food production, processing, distribution, storage and service risks. ISO 22000 covers four main parts: risk assessment, control plan, operation and maintenance/review.
Risk assessment
Control plan
Operation
Maintenance/review.
Risk assessment is where you identify potential hazards and vulnerabilities to your business. This includes understanding what foods are being processed or stored on site, as well as how those foods are transported or sold to customers.
Control plans provide guidelines for mitigating identified risks. These may include procedures for monitoring equipment and processes; establishing cleaning schedules; setting up surveillance systems; and training employees accordingly.
Operations refer to day-to-day activities carried out in order to ensure that your business meets ISO 22000 requirements (for example, ensuring cleanliness throughout facilities).
The purpose of a maintenance/review is to ensure that controls are effective over time by conducting regular reviews of operations policies and procedures. This ensures the efficient operation of an organization's systems, processes, and resources. Maintenance/reviews help identify any issues or problems so they can be corrected quickly.
Each part of ISO 22000 has specific requirements that must be met for an organization to claim compliance with the standard.
To achieve certification under ISO 22000, an organization must demonstrate its ability to apply all aspects of the standard throughout its entire food safety system. It can be quite a commitment to implement throughout, but it can be very effective.
ISO22000 is not just about ensuring your organization's food safety systems are up-to-date; it's also about providing a consistent approach to managing risks across your business. By following established guidelines and implementing proven controls, you can minimize the chances of accidents and ensure your organization is consistently performing at its best.
ISO22000 provides a comprehensive framework for managing organizational risks, from food safety to environmental protection. By following established guidelines and implementing proven controls, you can reduce the chance of accidents and maintain consistent performance across your business.
Beyond ISO 22000
ISO 22000 standards and requirements play an important role in protecting consumers from unsafe foods, so it is essential to understand them to run a safe business. Other ISO standards can be used as guidance for other industries. Other ISO standards include, but are not limited to,
ISO 17025:2008 Quality management systems – Requirements and guidelines for their implementation
ISO 9001:2008 Quality management systems
ISO 14000 series Environmental standards.
ISO 9000 is the most commonly used quality standard in business today. It covers everything from product design through production and delivery. Other popular quality assurance standards include ISO 13485 Medical device certification requirements and ISO/IEC 27001 Information security Management Standards. These other standards can be helpful when creating a quality management system or complying with regulations related to healthcare products, data protection measures, or the environment.
COST EFFECTIVE ISO training
SFPM Consulting has a long history of working with PECB to deliver cost-efficient ISO training to your team, fully accredited at a reasonable cost. Contact us today to register and train your team so they can be ISO experts!